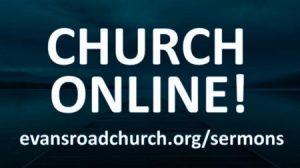 Evans Rd Community Church Services
Evans Rd Community Church is gathering ONLINE in response to the Health and Safety notice regarding Covid19 coronavirus Delta outbreak. Our priority is that we stay connected as a church family and that we are a blessing to our community. Therefore, our building may be closed, but church is not!
For more information on weekly sermons, please go to evansroadchurch.org/sermons
For ongoing pastoral support, our pastor is available to be contacted by calling 07 574 6190.